Our

American Heritage
Founders & Family Owners
American Heritage National Bank is a historic tradition of family-owned banking over four generations with the heritage of building relationships and serving local communities:
1881-1945

Henry W. Schroeder began his banking career in 1906, after William E. Lee established the "Lee State Bank" in Long Prairie in 1881 with the bank's President, George R. Christie. Under Henry's leadership, the bank was a foundation of the community through both World War I and World War II. During the Great Depression, Henry's commitment to bank customers went so far as to extend his own personal assets to save homes, family farms, and local businesses until he passed away in 1975.
1946-1977
Roland A. Schroeder, Henry's son, joined the bank in 1946 after returning from World War II. In the US Army, Roland was awarded the Bronze Star for his Signal Battalion's mission leading up to the D-Day invasion and joined the XV Corps advance through Europe to VE-Day. In 1963, the bank switched from a state charter to national charter and was renamed the "First National Bank of Long Prairie". Roland served as the bank's President and Chairman of the Board until 1986 and passed away in 1991.
1978-2001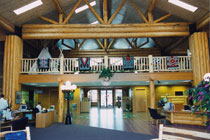 Rodger J. Johnston, Roland's son-in-law, joined the bank in 1978 after practicing law and establishing several successful businesses. In 1985, the Lee State Bank of Browerville was acquired to become a current branch of the bank. As CEO and Chairman, Rodger then orchestrated the expansion and construction of both log bank branches in St. Cloud that elevated it to one of the largest family-owned and operated banks in Minnesota. In 1995, the bank was renamed "American Heritage National Bank" to represent its family tradition and commitment to customers. Leonard (Len) Wohlman became the bank's President in 1999 after years of dedicated banking service in the St. Cloud area and continues to serve on the bank's Board of Directors.
2002-Present
J (Jay) Christopher Johnston, Rodger's son, joined the bank in 2002 after practicing business and government law in Illinois and Minneapolis. He is the fourth generation as the great-grandson of H.W. Schroeder and continues the family heritage of bank owners dedicated to our local communities and their prosperity. After leading the bank's business banking departments, he was made the President and Legal Counsel in 2008. With his continued leadership after the Great Recession, Jay became the CEO and American Heritage Bank celebrated its 130th Year Anniversary in 2011. Jay established the bank's American Heritage Holding Company in St. Cloud and expanded again in 2015 by opening its fifth branch location in Clearwater, MN. The State Bank of Avon became the sixth bank branch after its acquisition and 2017 merger into American Heritage Bank that grew the total bank assets over $350 million.
Local Community Memorials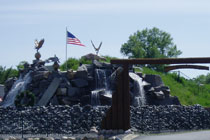 American Heritage Bank is proud to honor the heritage of our community and its people. The "Falls of Our Fallen" Memorial on St. Cloud's east side along Highway 10 is a 2 ½ story high waterfall constructed with 220 tons of granite that circulates up to 1,000 gallons of water per minute. The Falls Memorial was designed and developed by Rodger Johnston CEO and dedicated by American Heritage Bank to our military veterans, law enforcement officers, and fire fighters who have served and sacrificed for their community and country.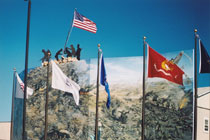 Also American Heritage Bank has actively developed other memorials in the surrounding area, including the Veterans Memorial Park in Long Prairie. The Veterans Park has a 4 story high mural depicting the battle for Iwo Jima in World War II and celebrates the first flag raised over Mount Surabachi. Charles Lindberg, the last surviving first flag raiser, was present and honored at the dedication ceremony along with family members of the other flag raisers from all over the country. The site also honors all the other veterans of the United States, including the women of the armed services.
The "Log Bank"
American Heritage National Bank has constructed one of the largest log banks in the nation that spans over 30,000 square feet. The body of the first Log Bank was built with more than a linear mile of pines with some older than 150 years and cut at elevations above 9,000 feet in the Rocky Mountains of Colorado. Each log was individually hand-peeled, notched, and assembled in Colorado; and then completely disassembled, the logs numbered, loaded on trucks, and transported to Minnesota to be rebuilt on St. Cloud's west side.
The Log Banks are unique inside and out in architecture and culture. Opened in 1995, the first Log Bank hosts an entry-level split stone fireplace, loft areas like a mountain ski chalet, front porches with wooden swings, a 12,000 square foot grand ballroom and stage, an American history museum and artistic prints that create an atmosphere of warmth and inspiration for all our customers. The second Log Bank on St. Cloud's east side opened in 2000 with its own unique log architecture and style including additional office space for commercial tenants and a surrounding natural landscape empowered by the "Falls of the Fallen" memorial. American Heritage continues to incorporate the Log Bank design with the additional bank branches remodeled in Clearwater and Avon.